Jyväskylä – a place for a student to be
In Jyväskylä, student life is much more than student parties (although of course there are plenty of those too). Also known as the Athens of Finland, Jyväskylä is a place where you can spend memorable years, enjoying various hobby opportunities, being close to the nature, culture and community. ⁠ In this article, we have gathered a few good reasons why Jyväskylä is the best choice for students.
5 good reasons why students should choose Jyväskylä:
In the middle of Finland, in the middle of everything. Therefore the center of everything – easy to get there (and leave if necessary).
I mean, this is a village (kylä means village in Finnish)! The city is compact and you can get around easily by bike (if you like hills).
No language barriers, because here in Jyväääskylä we speak the purest Finnish. Easy to understand and be understood. We are pretty good with English too.
Also other options than humanism (this is a joke only Finns understand, sorry). We have, for example, a particle accelerator laboratory.
Dude! Wait, never heard of Kortepohja? EVER? (Again, joke only for FINNS – very sorry.)
Jokes aside, because there is really a lot to do and experience in Jyväskylä. Below are our best tips on how to get the most out of student life in Jyväskylä!
Sub and top culture
There is plenty to do and see for those who are hungry for culture. In addition to the vibrant student culture, the city offers several great cultural experiences throughout the year.
Ilokivi Venue is the students' own legendary rock club, which serves the most diverse cultural offering in the city; live gigs, DJ clubs, standup, burlesque, theater and movies.
Yläkaupungin yö is a free and multi-art city festival that annually gathers people to enjoy culture in its various forms.
Jyväskylä City Theatre produces versatile, high-quality theatre experiences in a building designed by Alvar Aalto.
Great opportunities for hobbies
In Jyväskylä, you can participate in different communities both alone and together. The city is particularly well-known for its lively amateur theater activities, which brings together both actors and enthusiasts interested in the background work of theater.
Student associations and various organizations offer a natural way to meet new people and get involved in events. In addition, a comprehensive list of students' hobby opportunities has been compiled on JYY's website; would you join a choir, would you join board games or anime, or would you be interested in the activity of an academic beer club?
In Soihtu, community is an essential part of living. Find your own group in the clubs that gather in Rentukka. Shared goods, a rowing boat and shared car used by the tenants, as well as, for example, cultivation boxes give you opportunities to come up with things to do with your friends or make new friends from your neighbors.
Nature is always close
You can get away from the hustle and bustle of the city often, because there are easily accessible nature trails all around Jyväskylä – the forest is never far away.
In addition, there are four wonderful national parks nearby, where you can find routes and hiking opportunities for hikers of all levels. For example, climbing the mountains of Etelä-Konnevesi National Park rewards you with wonderful lake views – and lakes with beaches can be found everywhere else in Central Finland.
Living in Kortepohja Student Village and Soihtu Vehkakuja, you are a bike ride away from the campus, but you can go skiing, a forest trip, or the beach practically from your doorstep.
Athlete's paradise
Jyväskylä is the sports capital of Finland, so it goes without saying that the city offers excellent hobby opportunities for all kinds of sports. Jyväskylä also has Finland's only faculty of Sport and Health Sciences.
In Laajavuori, you can ski, ski, go snowshoeing, ride a mountain bike or enjoy the nature trails. In summer, there is also an adventure park!
Hippos is a developing center for well-being and exercise, which will offer excellent opportunities for professional exercising in the future.
The Green Loop and numerous outdoor exercise places serve as a great setting for accessible nature exercise and, for example, Umove enables a wide selection of different sports for the city's students.
When you live in an apartment of Soihtu, all of these are close to you. In addition, you have access to modern Rentukka gym.
Village-like housing
Soihtu is a business unit owned by the Student Union of the University of Jyväskylä (JYY) and a reliable landlord that offers affordable student housing. With us, your rent includes more than just an apartment with the roof and walls – our housing locations are known for the services included in the rent and the sense of community.
Get to know all our housing locations and the services included in the rent and apply for an apartment today. You can also subscribe to our newsletter, so that you will be the first to receive information about available apartments as well as the best tips for applying for an apartment!
Interested in apartments of Soihtu?
Subscribe to our newsletter, through which you will be the first to receive information about vacant apartments and tips for applying for an apartment.
More News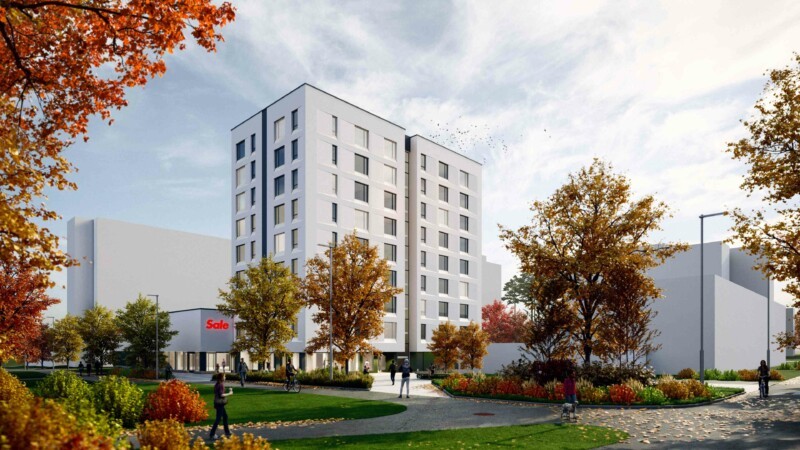 Soihtu aims for a new building in Kortepohja Student Village to serve e.g. students' families. The new building will be placed along the Kartanonkuja street, between buildings Q and E. Provided that the new site of Soihtu receives a building permit from the city of Jyväskylä and a start permit from Ara, construction can begin in late autumn 2023.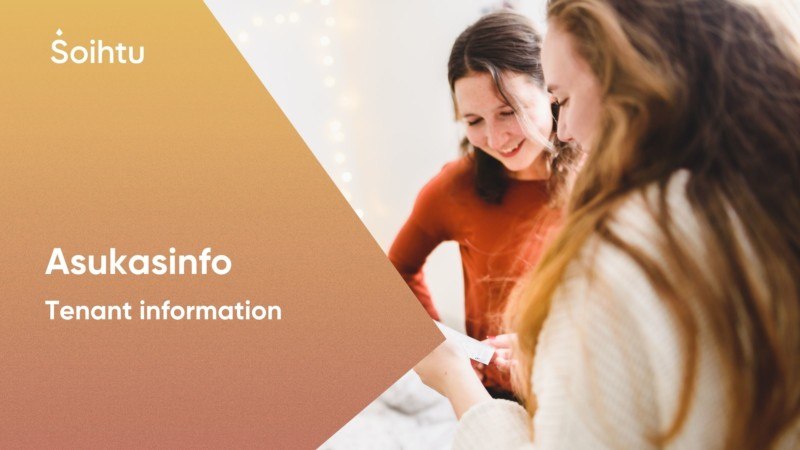 Tenants of Soihtu receive a newsletter about the current housing topics in Kortepohja Student Village, Soihtu Vehkakuja and Soihtu Korttelikylä every month. The newsletter is sent to the e-mail address found in our system and provided by the...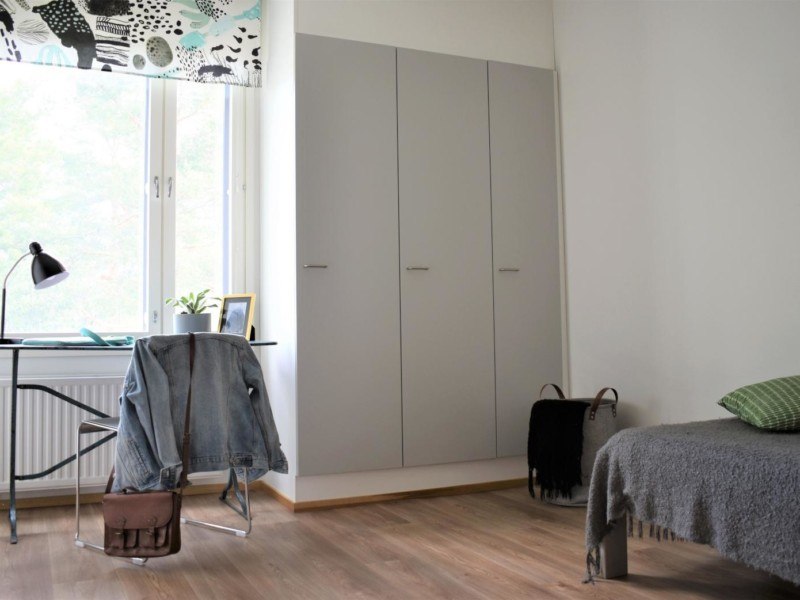 Soihtu has three housing locations in Jyväskylä: Kortepohja Student Village, Soihtu Korttelikylä and Soihtu Vehkakuja. All apartments of September have now been offered to applicants. We offer apartments that are available later in autumn to those who have sent an apartment application.